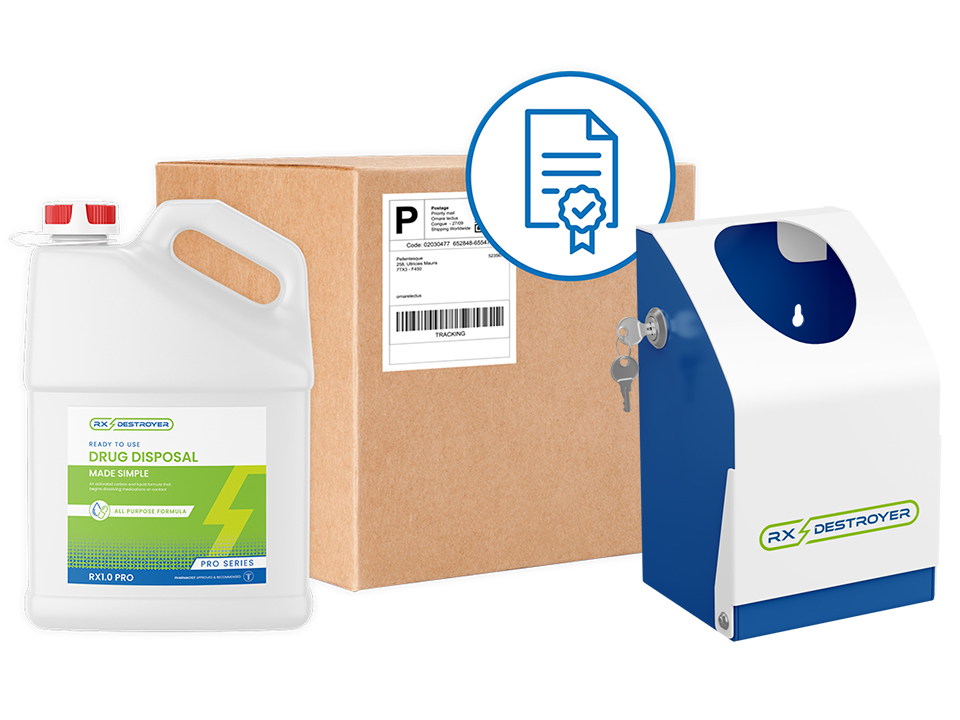 Rx Destroyer All Purpose
Meet DEA compliance regulations using the Rx Destroyer drug disposal system. Integration into your facility's program is easy and cost effective. This is the most comprehensive solution in preventing drug abuse, drug diversion, and stockpiling.
For use with all non-hazardous medications (DEA-controlled & Non-controlled). Includes Pills, Capsules, Tablets, Liquids, Lozenges, Transdermal Patches, Fentanyl Lollipops, and Suppositories.

No added water needed

No battery changes

No contracts required

Ready-to-use

Variety of sizes

Educational support provided
Downloadable Documents
MailBack Kit Includes:
Return Bag

Return Bag Tie

Direction of Use

Rx Destroyer Hardener Packets

Prepaid Return Label (Never Expires)
Lockbox Kit Includes:
RX Lockbox

32oz funnel with lid

Standard funnel
Meets California, Oregon and Washington incineration requirements.
If I buy a case of 4 All Purpose 64oz Teathered Cap Mail Back Kits, will it come with one return label for the case or 4 individual labels for each bottle?
Anonymous- 3 weeks ago
If you purchase any of the Rx Destroyer Mail Back Kits, it will come with only one return label. After all the receptacles are filled, place back all items in same box and return with the label that was supplied
Dave M.- answered 3 weeks ago