Apex Pro SC100 Nitrile Gloves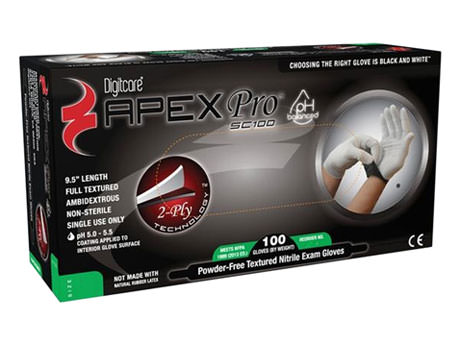 Apex Pro SC100 Nitrile Gloves
Apex Pro™ SC100 gloves are the only triple washed glove with true pH interior coating for improved hand health. Apex Pro™ SC100 also ensures maximum protection against contact with synthetic opiates. When tested with Fentanyl Citrate 100mcg/2ml for 240 minutes, the Apex Pro SC100 experienced zero breakthrough.
2-Ply Technology™ for maximum strength

Human skin pH balanced coating for reduced risk of irritation and reduced perspiration

Contrasting Black and White ApexPro identifies conformance to infection control protocols

High contrast perma-white exterior for improved visibility with infectious fluids
Exceeds Puncture Resistance of NFPA 1999-2013ed.

Specially formulated with advanced non-latex nitrile polymer

EaseOff™ non-stick exterior surface prevents tapes & even Veni-Gard™ from sticking to the glove

AQL of 0.65 exceeds industry standard

ExactFit™ glove formers for reduced hand fatigue & improved dexterity
Be the first to ask a question.