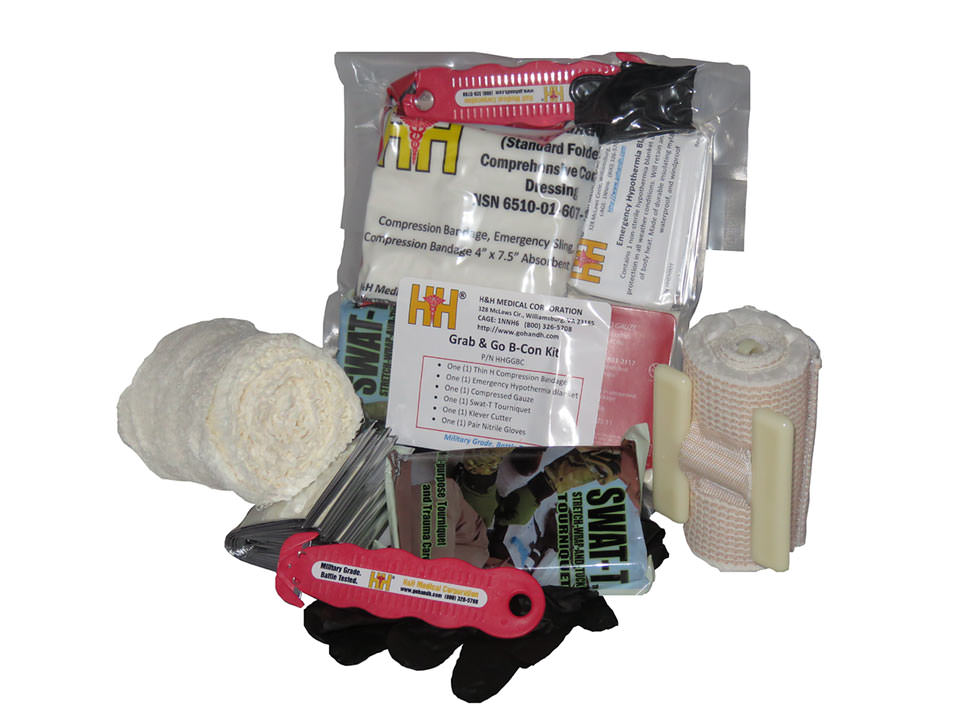 Grab & Go Bleeding Control Kit
The Grab & Go Bleeding Control Kit contains all the products needed to control severe bleeding, protect wounds, prevent hypothermia and shock and keep someone injured alive until help arrives. The kit is packed thin with every product visible, so it's easy to slip in a backpack or briefcase.
Each item individually wrapped and protected to survive under any conditions

Package Dimensions: 7 3/8" x 11.5" x 1.1"

Package Weight: 12 oz.
Each kit contains:
One SWAT-T compression wrap tourniquet to be used as a tourniquet, compression wrap, or other uses

One H&H Thin-H compression bandage for large wounds to control severe bleeding

One H&H compressed gauze to pack a severe wound or to wrap around wounds

One H&H emergency hypothermia blanket to wrap around victims to keep them warm and to help manage shock

One Klever Kutter safety cutter to remove clothing, seat belts or debris from victims or their injuries

One pair of nitrile gloves to protect the first responder while treating injuries
Be the first to ask a question.