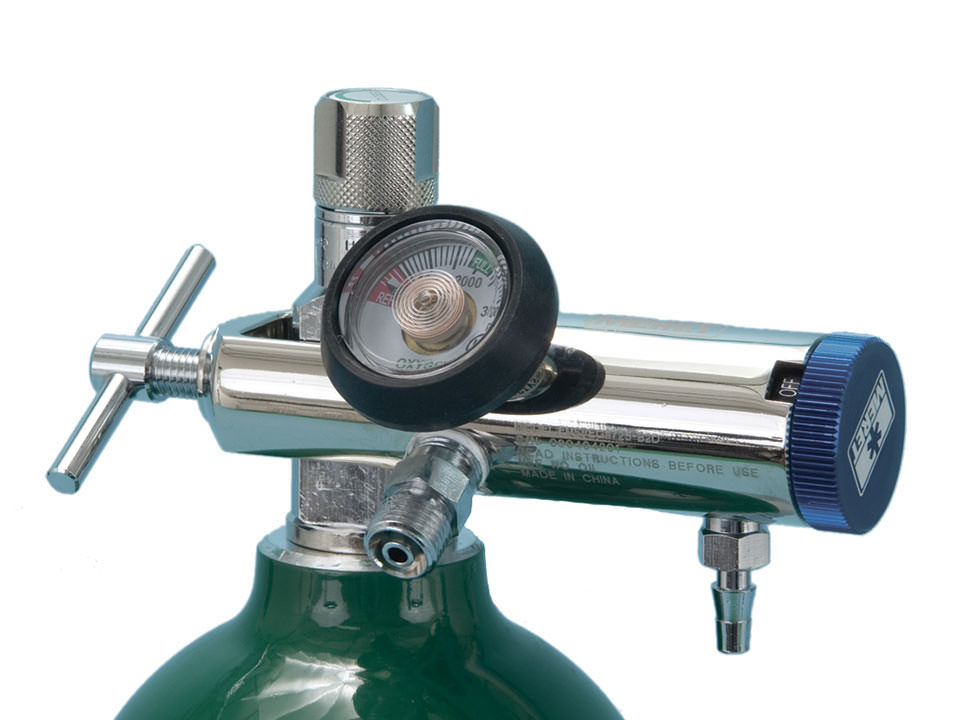 MERET all-brass EMS BRUUT Oxygen Regulators
MERET's™ all-brass EMS BRUUT™ oxygen regulators incorporate the latest in technology to deliver the highest level of safety, reliability, durability, and precision flow. BRUUT™ unibody regulators are constructed from high strength solid brass with brass internal high pressure flow components to ensure added strength and safe operation.
Solid and safe all brass construction
Chrome plated for superior protection
FDA recommended brass-viton sealer washer
12 Position precision flow +/- 10%
A laser etched, corrosion resistant chrome plated finish provides additional protection from the elements. This 0-25 LPM adjustable EMS all brass click style regulator uses a CGA870 connection with a barb outlet and operates at 50 PSI. At just under 5" inches in body length this regulator is extremely compact and durable.
This regulator can be set to OFF, 0.25, 0.5, 1, 2, 3, 4, 6, 8, 10, 15, or 25 LPM. All flow rate indicators are labeled in decimals for easy reading.
Impact resistant gauge with gauge cover.
Solid stainless alignment pins to reduce contaminants
Sintered 40 mircon triple inlet filter
Serialized regulator identification
Laser etched identifacion markings
Blue anodize aluminum control knob
What is the DISS Outlet on the MERET all-brass EMS BRUUT Oxygen Regulator?
Anonymous- On Friday, 23 October 2020
The DISS outlet (Diameter Index Safety System) on the MERET all-brass EMS BRUUT Oxygen Regulators, or any oxygen regulator, provides a regulated 50 PSI source for accessories such as demand valves and some CPAP systems. They are self-sealing, and do not require a cap if not used.
Forrest U.- answered On Sunday, 25 October 2020