Hartwell BioHoop Emesis Bags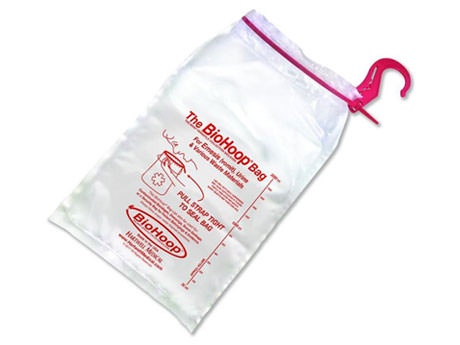 Hartwell BioHoop Emesis Bags
by Hartwell Medical
Largest opening of any collection bag! Semi-rigid rim keeps the bag open, providing a large target for the patient that will not collapse in use.
Large 8" x 13-3/4" bag holds up to 3 liters.

Long, protective cuff on both sides protects your hands from fluids.

Cinchable strap allows instant closure with just a quick pull, eliminating spills and odor.

Hook allows the bag to hang within easy reach on ambulance cot rails, grab rails, hospital beds or wheelchairs.

Clear front with graduated markings makes it easy for hospital personnel to examine contents.

Tamper resistant bag is perfect for emesis, urine, blood spills, soiled dressing, patient belongings like jewelry and cell phones, evidence or other waste material.
Be the first to ask a question.