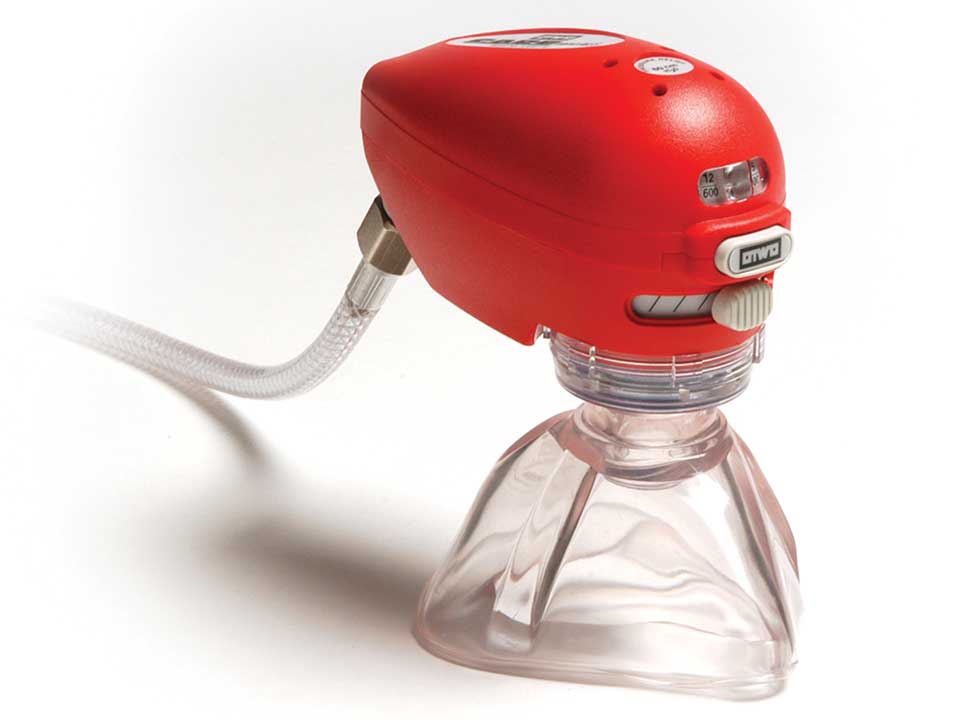 O-TWO CAREvent Handheld Resuscitator
The CAREvent ® Handheld Resuscitator is a lightweight, portable, extremely durable and simple to use automatic time/volume cycled device. It is completely pneumatic (i.e. no batteries required) and once set, it delivers breath by breath consistency in delivered tidal volume, frequency, inspiratory/expiratory times and flow rates.
"Demand Breathing" for the spontaneously breathing

Manual Ventilation Override to supplement the automatic ventilation mode

Single Slider Control with 6 settings for the simultaneous adjustment of ventilation frequency and tidal volume
Downloadable Documents
This consistent ventilation is not achievable with a standard bag-valve-mask and prevents the delivery of excessive ventilation. Replacing bag-valve-masks with a CAREvent® Hand Held Resuscitator, takes the guesswork out of how hard and often a "bag" should be squeezed. It delivers ventilation automatically freeing rescuer's hands to focus on other patient needs rather than their own bagging performance.
Delayed Cycling of 20 seconds when pressing the manual button after an automatic breath to provide enough time for 30 chest compressions

Auto Cycling Shut-Off and Restart for patients moving in and out of spontaneous breathing

(Note: In the child settings the inspired flow rate of the patient may be insufficient to cause the Automatic Circuit Shutoff to function.)
Be the first to ask a question.