Conterra TRIAGE BELT and TRIAGE TAPE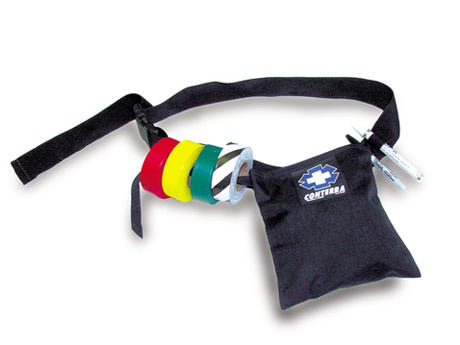 Conterra TRIAGE BELT and TRIAGE TAPE
by Conterra
Conterra's unique triage belt utilizes four colors of survey tape to categorize patients.

The triage officer simply tears off a piece of colored tape and ties it around the patients arm, which can be seen and understood from many yards away, unlike tags.

Most teams use tape for the primary triage, and then use tags for the secondary triage. This eliminates the confusion that often occurs due to double tagging.

Conterra's non florescent triage tape is specially formulated to remain color true even under the harshest lights.
Belt fits waist sizes 21.5" to 57"
What are the dimensions of the Pouch that comes with the Conterra TRIAGE BELT and TRIAGE TAPE?
Anonymous- On Monday, 08 July 2019
The dimensions of the pouch that come with the Conterra TRIAGE BELT and TRIAGE TAPE are approximately 7-1/2" W x 9" H.
Jim L.- answered On Wednesday, 10 July 2019