Tactical Strike Concentrated Cleaner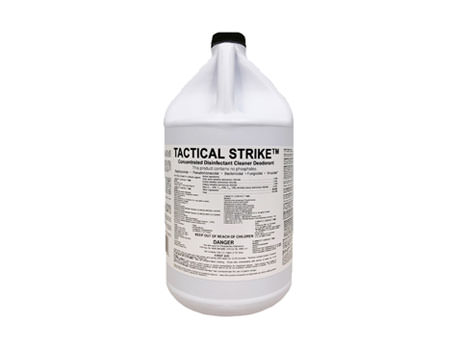 Tactical Strike Concentrated Cleaner
Tactical Strike is a unique, odorless, powerful disinfectant with some of the fastest kill contact times on the market. At 1 ounce per gallon concentration, it is perfect for spraying on surfaces to disinfect without leaving soapy residue behind. It is approved for use on PPE as well.
**EPA approved killer of SARS-CoV-2, the virus that causes COVID-19**
15 seconds 99.9% of all germs

60 seconds HIV-1 & Influenza Type A

80 seconds Listeria, MRSA, Strep, Hepatitis B &C, Herpes Type 1 & 2, Human Corona virus, Rotavirus

Dilution ratio: 1 oz per gallon (makes 128 gallons of disinfectant)
Is the Tactical Strike Concentrated Cleaner still a category 2 irritant after dilution?
Anonymous- On Monday, 26 October 2020
Per the manufacturer, the Tactical Strike Concentrated Cleaner is NOT an eye or skin irritant at the manufacturer recommended dilution rate. Please consult your medical direct for additional instrustions as needed.
Patrick C.- answered On Wednesday, 28 October 2020