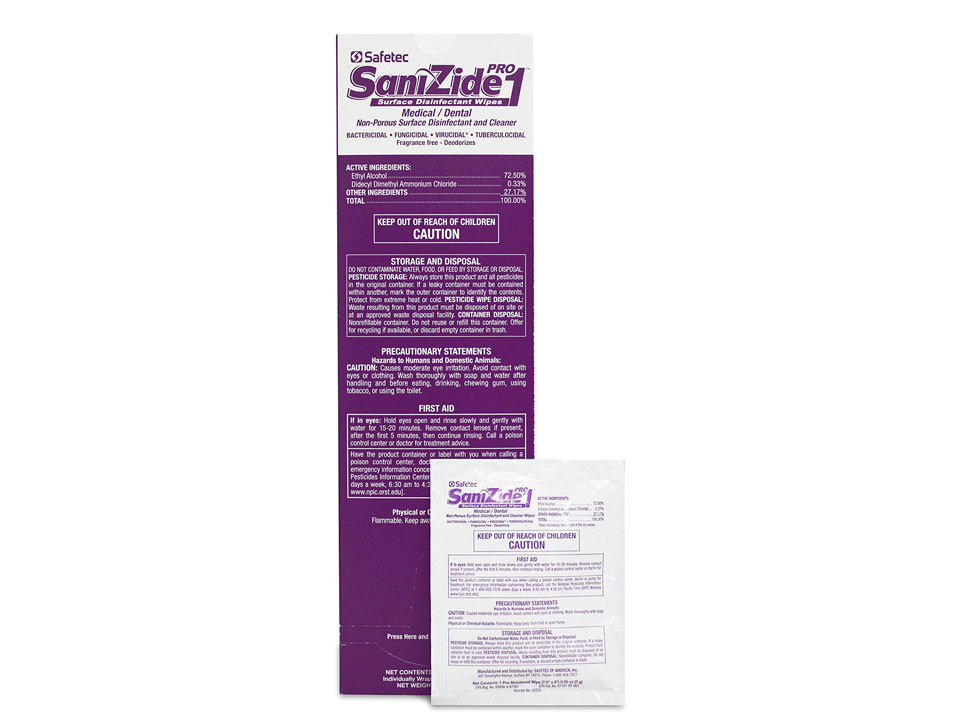 SaniZide Pro 1 Surface Disinfectant Wipes
Safetec's SaniZide Pro 1® is a broad spectrum, EPA Registered surface disinfectant that combines cleaning and disinfecting in one simple step with its ready-to-use, alcohol-based hospital-grade formula. SaniZide Pro 1® makes staying compliant even easier by reducing the risk of cross-contamination with true, one-minute kill claims that are effective against 48 microorganisms as well as SARS-CoV-2, the virus that causes COVID-19, and safe for repeated use on hard, non-porous surfaces.
1-minute disinfectant

Broad spectrum, EPA registered disinfectant

SARS-CoV-2 (virus that causes COVID-19) according to the emerging viral pathogen claim
Downloadable Documents
Effective against 48 microorganisms in one minute
MRSA

VRE

Tuberculosis

T. mentag (general Fungicidal claim)

Poliovirus, Norovirus, Rhinovirus
And many more Ideal for use in:
Hospitals

Medical or Dental Offices

Ambulance

Ambulatory Surgical Centers

Nursing Homes

Laboratories

Pharmacies

Veterinary Offices
Be the first to ask a question.