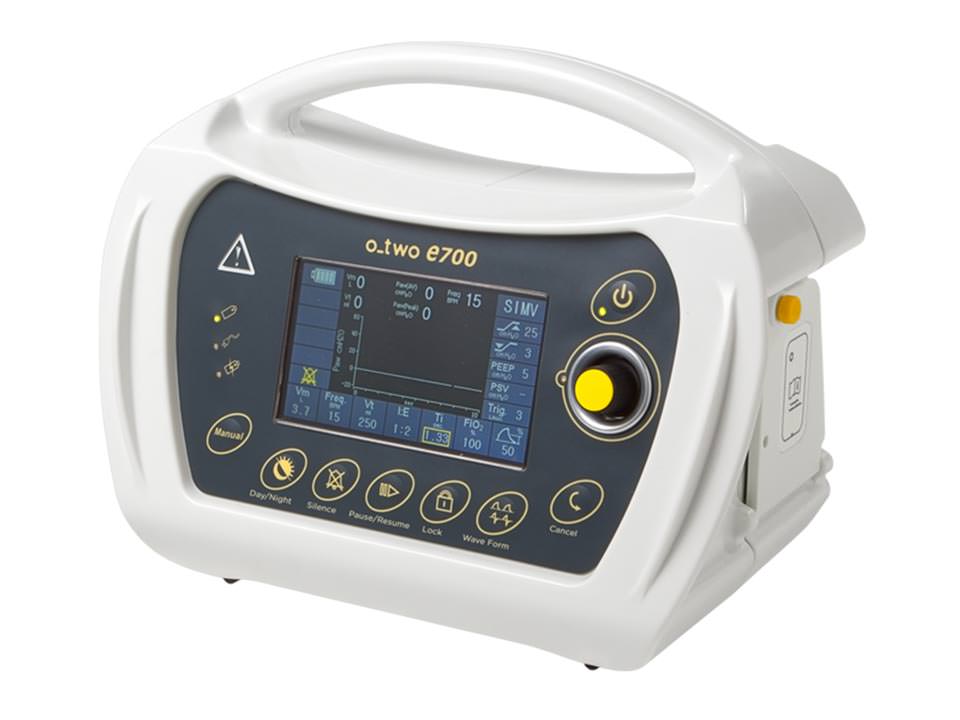 O-Two e700 Automatic Transport Ventilator
The electronically controlled, pneumatically powered e700 ventilators provide a range of ventilation solutions for all types of patient requirements.
Easily Changeable, long lasting (18 hour) battery pack.
Require attachment to a regulated oxygen supply and a transport ventilator circuit.
Replaceable battery can be charged while inside the ventilator or can be removed for charging and quickly replaced by a fresh battery pack.
Display lighting has both day and night modes for easy visualization of the ventilator settings in any ambient light conditions.
Continuous parameter monitoring and self adjustment.
Downloadable Documents
Ventilation modes: SIMV w/PSV, A/C (VCV,PCV), BiLVLl w/PSV, CPAP w/PSV, Mask CPR (MCPR) Intubated CPR (ICPR) Adult/Child/Infant Quick Start Mode
Patient Size Range: 6 Kg to large adult
Ventilation Frequency: 5 - 60
Minute Volume (L): Calculated
Tidal Volume (mL): 50 - 2000
Quick Start Mode Default VT/BPM: Adult 500/10, Child 250/15, Infant 100/20
I:E Ratio: Adjustable (1:6 to 3:1)
PEEP (cm H2O): Adjustable 0 - 20
CPAP (cm H2O): Adjustable 4 - 20
O2 % (FiO2): 60 or 100 (0.6 - 1.0)
A/C power adapter: 100-240VAC/ 19VDC, 4.74A
Dimensions (mm): 250 x 200 x 155
Weight (Kg) with/without battery: 2.4/1.7
What are the O-Two e700 Automatic Transport Ventilator AC/DC power supply specifications?
Anonymous- On Monday, 25 January 2021
Per the manufacturer, The O-Two e700 Automatic Transport Ventilator AC/DC power supply specifications are 100-240 VAC/ 19 VDC, 4.74 A
Forrest U.- answered On Wednesday, 27 January 2021