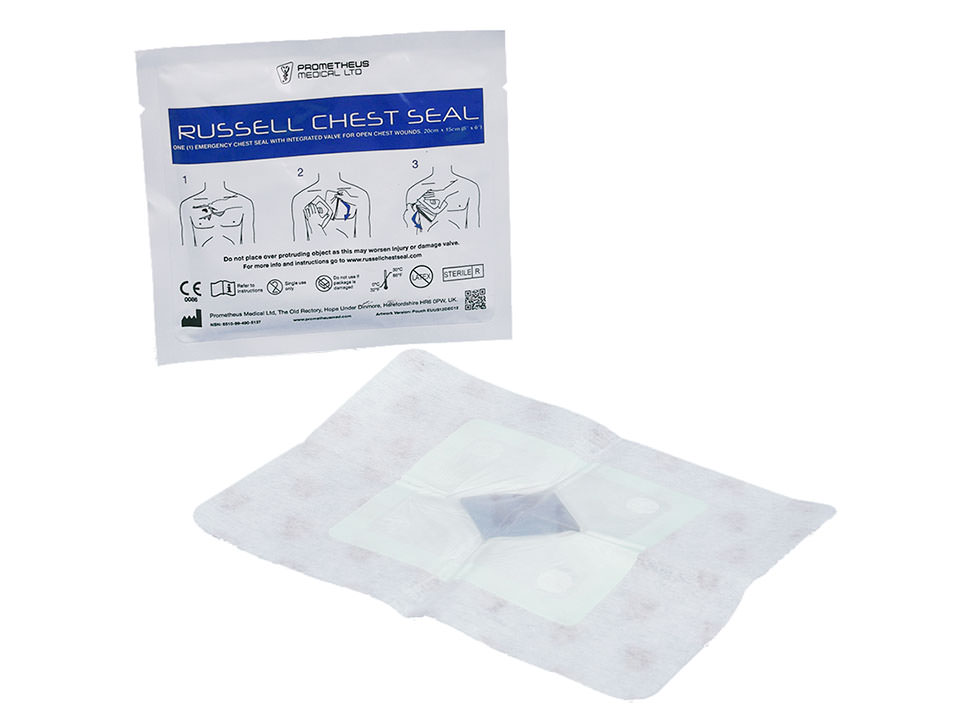 Russell Chest Seal
The hydrogel-based dressing creates an airtight seal, even when placed on a sweaty or hairy patient and ensures patient comfort due to the soft backing on the hydrogel seal. The unique valve mechanism constructed from a thin but tough material makes the chest seal very compliant, allowing opening and closing with very small changes in pressure (2O). The large valve is nearly transparent, so the dressing can be positioned accurately over the wound. It is also fast, easy and intuitive to apply.
4 large peripheral apertures allow drainage of air and blood

Large central hole in base material allows quick accurate placement with reduced risk of obstructing the wound opening

Low profile and highly flexible
Four peripheral apertures are large enough (36Fr) to allow blood to escape, if necessary, without blocking the valve. The four apertures provide substantial redundancy: if up to three of the four holes become obstructed, the valve will still remain fully operational. The Russell Chest Seal has a unique low profile and flexibility. It is supplied in a pre-folded form to make it easy to stow into medical packs. In low light conditions, the valve can be 'felt' to be working, making it ideal for military operations. At 7 ¾" x 6", the Russell Chest Seal is one of the largest chest seals currently available.
Be the first to ask a question.