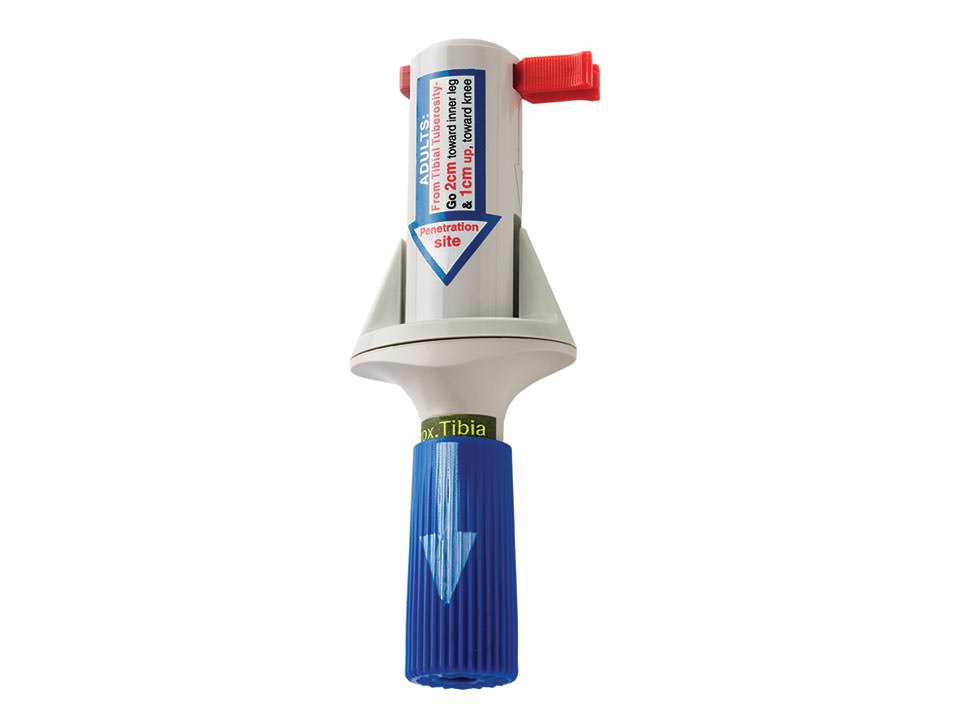 Bone Injection Gun (BIG)
The Bone Injection Gun (B.I.G.) gives you a safe, reliable, and cost-effective solution for IO access. The world's first automatic, user-friendly IO device brings you safe, rapid IO access for the delivery of fluids and medications at flow rates similar to peripheral IV infusion.
With the help of B.I.G. IO infusion can be established in less than 60 seconds. B.I.G.'s spring-loaded needle mechanism delivers accurate and consistent results. The B.I.G. presents an easy and safe "position and press" mechanism. Typically used at the upper tibia plateau, the technique is simple to learn through brief training.
B.I.G. is rapidly becoming the device of choice for physicians and paramedics in emergency medical services, hospitals, militaries, government agencies, and secret services.
B.I.G. Supply Bag:
This orange BIG Bag securely holds two sterile BIGs (not included) with colorful, illustrative Site Location Cards for instructing the differences between Pediatric and Adult device placements from the Tibia Tuberosity.
B.I.G. Training Kits:
Use a BIG Training kit to practice or train on the I.O. techniques with a Reloadable, non-sterile BIG. Select either the Adult or Pediatric Kit.
Kit includes:
Reloadable, non-sterile Adult or Pediatric BIG
Training CD and Instructions for use
Reloading tools for manual reloading
Foam Block for needle insertions
Storage Box for safe keeping
B.l.G. Anatomical Adult Training Leg:
Allows students to understand the proper landmarks and placement of the intraosseous device. Clinical Specialists have practiced on pediatric trainers for years, and with this new adult trainer, students will have a better understanding of landmarks on the adult patient. This anatomical leg is designed with a palpable Tibia Tuberosity.
Can I get replacement parts for my IO550TP Bone Injection Gun?
Anonymous- On Saturday, 18 January 2020
Please contact our Customer Care team at 800-824-6016 to order replacement parts for your IO550TP Bone Injection Gun (BIG).
Jim L.- answered On Monday, 20 January 2020