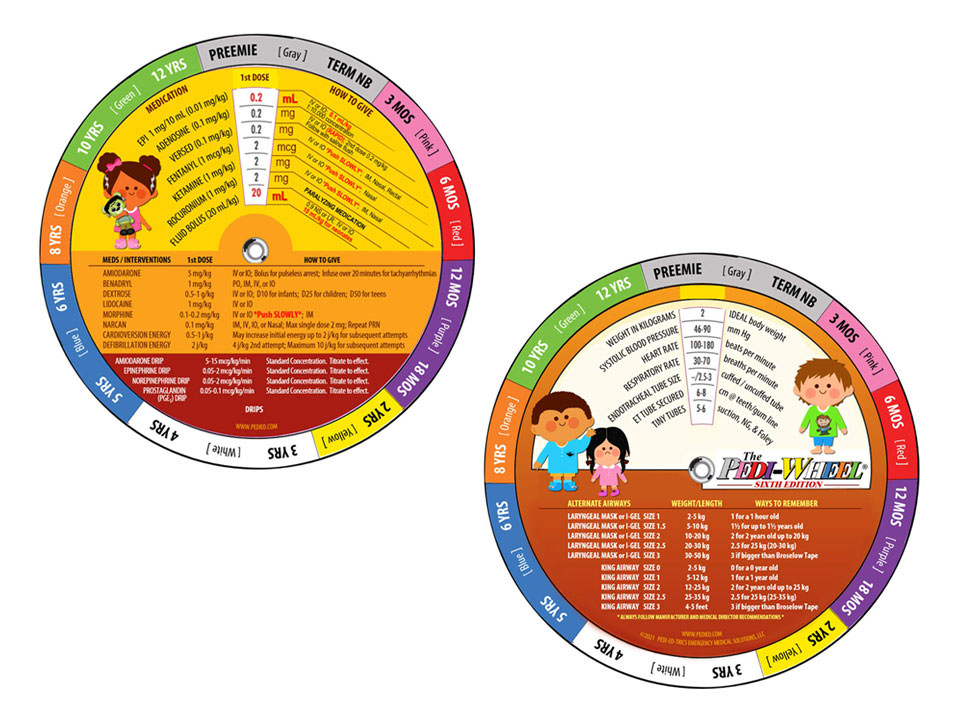 PEDI-WHEEL
The PEDI-WHEEL® 6th Edition remains the most comprehensive and valuable pediatric emergency pocket reference available. It's more than just a simple drug table - it is an interactive slide chart that actually performs drug calculations for you and displays the result while hiding all unneeded data from view.
Color-coded to match Broselow-Luten and Handtevy pediatric color-coding systems
Owning the PEDI-WHEEL® 6th Edition is like having a complete bound volume of pediatric information in your pocket because in addition to calculating drug doses by weight, it provides seven critical values based upon the patient's age: average weight in kilograms, normal systolic blood pressure range, normal pulse rate, normal respiratory rate, suggested ET tube size, the average depth in centimeters at the teeth or gum line of a properly inserted ET tube, and the suggested laryngoscope blade size. As if that isn't enough, a Lund and Browder burn chart and APGAR chart are also included.
4-5/8" round
Be the first to ask a question.